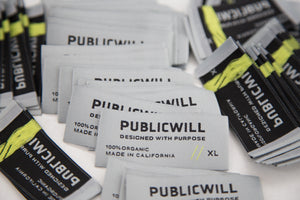 Our Promise
We're going to design and make beautiful things
We only make one design and one color
We work with small manufacturers in the US
We will search for fabrics and materials that are sustainable
We will support organizations that support the environment
Our Founder
When I hear "lifestyle" brand I tend to roll my eyes. There is rarely a brand that captures more than just one part of our lives. And the moniker can be a little precious. What I've tried to do with Publicwill is create something that reflects the things I care about – design, fashion, the outdoors and giving back.
For me, my passion was finding a way to design and create a men's bag line. I'd talked about it for years. Literally years. I'd traveled all over the world for business and secretly searched for the right kind of bag – one that brought together style and design with functionality.
I had a closet full of bags that didn't seem to deliver what I was searching for. Some were beautifully designed. But they were empty vessels with no clear thought on where things would go. Others were highly functional but looked like they were thrown in for free when buying a new computer.
I needed to make my own. So I jumped in. As my maker's journey began, I wanted to make other things too. I needed to bring to life all the ideas I had in my head.
Publicwill is a lifestyle brand. It's for maker's. It's for people who want something that is limited and beautiful. It's for people who believe that giving back is not just a nice thing but a core part of supporting brands. It's for people who care about our impact on the environment and want to protect open spaces. It's for people who want to show what they care about through the things buy.
If you made it here, Publicwill is for you. Come along on the journey with me.
Tom Scott - Founder